Visitors have called the Mandalay Canal Walk at Las Colinas a "hidden secret path." Those of us with homes in Irving know the walkway is easy to find. It follows the path of the man-made waterway as it joins Lake Carolyn. The Canal Walk is one of the unique features that help make the Las Colinas planned community a wonderful place to call home.
Our REALTORS® in Irving understand that the Canal Walk at Las Colinas is no secret. Still, we believe it's important to offer friendly reminders of just how beautiful and peaceful our community can be.
When you walk the canal
The Canal Walk gives you access to a beautiful ground level city view. You follow a patterned-brick path that syncs with the waterway's arcs and curves. You wander past gleaming office buildings, hotels, arched entryways, and architecture with a distinctive European flair.
Walking the path is a unique way to appreciate the Las Colinas fusion of futuristic growth and old world charm. Best of all, it's a great way to see the commercial district without traffic getting in the way.
More than just a walk
The path is tree-lined and peaceful, ideal for a solo morning walk, an afternoon lunch with coworkers, or a romantic evening stroll. Some restaurants, shops, hotels, and local entertainment venues border the walkway. Others are nearby or a doable walking distance.
As you walk, you'll also see towering buildings, floral accents, and secluded inlets with man-made waterfalls. The celebrated Mustangs of Colinas sculpture and museum are nearby as well.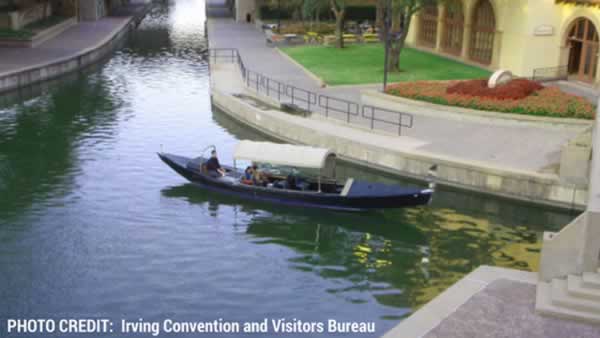 And if you don't feel like walking
If a peaceful walk isn't enough to satisfy your need for motion, you'll find a few options along the way.
Stand Up Paddle
If you can imagine yourself surfing and rowing at the same time, you might enjoy stand up paddling. As a Stand Up Paddle participant, you'll learn to "walk on water" using a boat/surf board style device. After you complete your introductory training you'll be able to paddle the canal instead of walking the path.


Gondola Cruises
When you see a gondola cruising the Las Colinas canal, you'll feel you've been transported to Venice. Gondola Adventures will schedule your tour on a traditional or electric-powered gondola. You can ride a gondola simply for access to a unique view of Las Colinas or arrange a special occasion cruise. P.S. Be prepared to kiss your partner as you pass under a bridge.


DART Transportation
If you want to see the canal but prefer not to walk, you can hop aboard a DART Area Personal Transit train. It's easy to make an APT connection from the Las Colinas Urban Center Station. It will speed you along the canal route if you decide not to walk.

Station stops provide People Movers to transport you throughout the community. APT service is free.
Get to know your community
We believe it's important to know your community. Contact RE/MAX DFW Associates when you need information on buying or selling your Irving home or if you simply want information about the businesses, activities, and entertainment in your community.